So with the buzz for Saturday 5th March gaining a HUGE amount of momentum especially as its now just around the corner, FACE caught up with Claude for a mini interview to learn more about him, his views on music and of his plans for this year…
Can you remember the first time you heard electronic music? Remember what you liked about it?
Yeah, it was hip-hop. people don't think of hip-hop as electronic music but of course it is.  i liked that you could make things sound different or even "better" than if you just played a drum kit. The fact you could chop and assemble things in a way that would never played by a musician. that was fascinating to me.
Are the things you like about it still the same now or have things changed as you aged as a man and dj/producer?
Its still the same for the most part. it is one of the only kinds of music where it is cool to make sounds that you cant get from a live musician.  The patterns and construction are sometimes counterintuitive until you see them on the dance-floor. The frequency of the sound is just as important as the sound itself. All of these things still get me going.
And how did your musical taste evolved in the last year? What inspired you?
There's a new guard of younger artists who don't have any fears.  I love all these guys like Julio Bashmore, L-Vis 1990, Ramadanman. There's a sense of change coming round. You don't have to play all house and at this point why would you?
In terms of your own productions, are you still learning new stuff or are you happy with your skill set now?  Do you write music the same way you always have or have your methods changed over the years?
I am still going to school online to learn new software feature. I am always striving. I never stop the learning process. Tracks i made in 2005 sound like they were made in a tin can under a pillow compare to music coming out now. The EQ and the sound quality of new music has taken a quantum leap in my opinion.  My core methods stay the same. Always do my best, always push the limit of what people are expecting.
How did you first hook up with Bootsy Collins? Can you tell us about the track you contributed to his album?
I found him through my manager Sharen Norden. I thought it would be a nice pairing of funny guys.  It's just a beat i made that he liked from one of the unreleased versions of the other track we did together on dirttybird.  I worked on some new stuff too but that's what he ended up using it on his album.
How important is a sense of fun in the music you make? Is that in your mind when producing or does it just happen that way?
I think about the people standing in the back corner criticising everything about the night, judging girls looks, judging other guys who want to dance and have fun,. judging every track and every mix from the Dj booth.  i usually try to make music those people will not enjoy.
And regarding the label… what are your main goals with it – to nurture talent, discover new people, big hits, nurture a certain sound…?
Big hits, lol. No, for sure we aren't a big hit machine. I just sign what i play simple as that. I think its the best stuff. I like breaking new artists. Most of them leave once they get famous and i'm fine with that.
You've pretty much defined Californian tech-house with Dirtybird… you still got new sonic pockets to explore you think? Or would you ever change direction at all?
Yeah, i think we are testing some limits this year. There are your "dirtybird" releases and then there are some this year that are pushing forward.  I also have a tiny tiny sub label called Krush Groov. Don't bother looking for it on BEatport there's nothing but ltd vinyl. It's where i'm experimenting right now.
When you DJ do you do so to a crowd or do you play for yourself and hope they like or…?
A bit of both.  But if the crowd is fully apart from me i say fuck it and try to clear the floor entirely. I'm not one to get paranoid about clearing the floor. It needs to be done once in a while so you can start fresh and build a new room. Even turning off the music can be helpful.
How much prep goes into each of your sets? Do you go looking for new music or do you just play stuff you get sent or…?
A mixture. I get sent so much stuff it's hard for me even to get through it all. I do buy music tho especially from artists i like.
What can people expect from you at Face?
fun. I haven't been to Birmingham in over 3 years!
What else have you got coming up?
A remix album called "VonStroke's Dance Music Makeovers" and some singles. A remix for Soma and a remix of Wut on nightslugs.
……………………………………………………………………………………..
You can of course catch Claude playing alongside myself, Bunny, Elliot & Shonky in our mint little courtyard at The Rainbow next week. Its biggest most anticipated event FACE has done so far. Get your tickets A-SAP if you havent already. Any questions, just holla!
http://www.datatransmission.co.uk/ViewEvent/10398/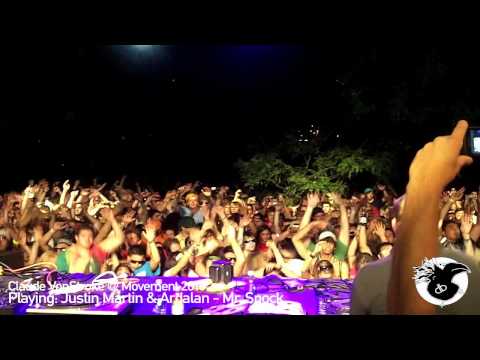 Also, check out this nice little article on the visitbirmingham website…
http://www.visitbirmingham.com/nightlife/night_clubs/dj_claude_vonstroke_headlining_face/